Contact Us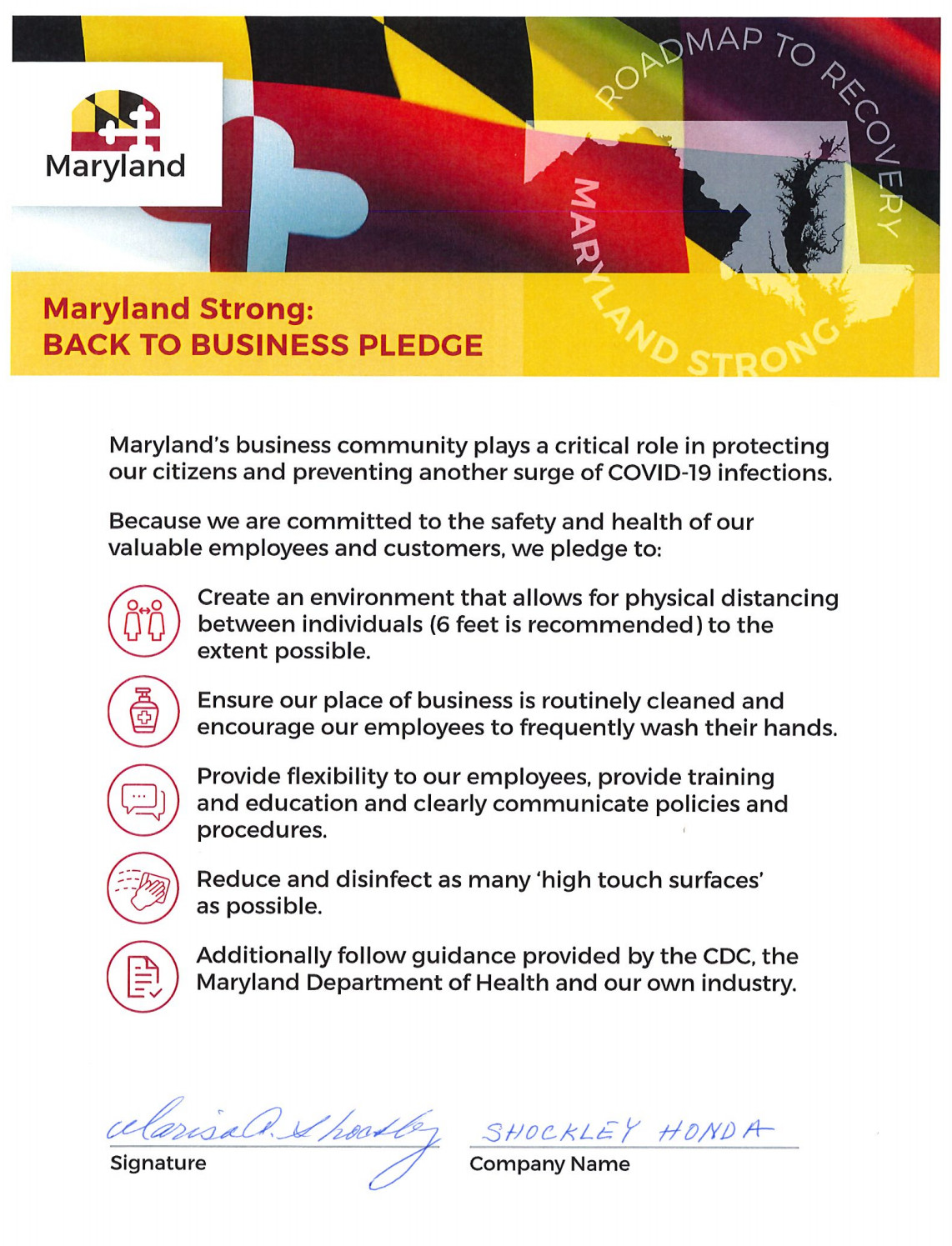 Shockley Honda and COVID-19 Updated: 06/01/2020
We are Open.
Our Hours are:
Service/Parts: Monday-Friday 7am to 6pm
Saturday 7am to 5pm
Sales: Monday- Saturday 9am to 7pm
Appointment Preferred
You can reach us by:
Phone: 301-245-0861
Email: [email protected]
Service
Please schedule your service appointment with our appointment coordinators so we can prepare for your arrival. Vehicle drop off is strongly encouraged. Rental vehicles are available.
We are following high-level precautions at the dealership.
Sales
To schedule an onsite OR offsite test drive or appraisal call our live agents at 301-245-0861.
To view payment options and newly updated prices or buy online with home delivery or store pickup please visit our online store Our dedicated reps are available by phone to assist in any step of the process.
Employees and Guests are required to wear masks at all times while in the dealership.
We are dedicated to assisting you in any way we can at this time and are following all recommended safety procedures to keep you and our employees safe. We are diligent about maintaining social distancing and minimal capacity in our showroom and service lane. All work areas, desks, and customer touch points are being sanitized after each use.
Our Facility
We maintain adherance to all CDC guidlines regarding cleaning and disinfecting, social distancing, as well as face coveings.
Have a question? Call us at 301-245-0861 or fill out the form below. A representative will be in contact with you shortly.
Our Location
Shockley Honda
7400 Shockley Drive
Frederick, MD 21704 Get Directions
Sales Hours
| | |
| --- | --- |
| Monday | 9:00 am - 7:00 pm |
| Tuesday | 9:00 am - 7:00 pm |
| Wednesday | 9:00 am - 7:00 pm |
| Thursday | 9:00 am - 7:00 pm |
| Friday | 9:00 am - 7:00 pm |
| Saturday | 9:00 am - 7:00 pm |
| Sunday | Closed |
Service Hours
| | |
| --- | --- |
| Monday | 7:00 am - 6:00 pm |
| Tuesday | 7:00 am - 6:00 pm |
| Wednesday | 7:00 am - 6:00 pm |
| Thursday | 7:00 am - 6:00 pm |
| Friday | 7:00 am - 6:00 pm |
| Saturday | 7:00 am - 5:00 pm |
| Sunday | Closed |
Parts Hours
| | |
| --- | --- |
| Monday | 7:00 am - 6:00 pm |
| Tuesday | 7:00 am - 6:00 pm |
| Wednesday | 7:00 am - 6:00 pm |
| Thursday | 7:00 am - 6:00 pm |
| Friday | 7:00 am - 6:00 pm |
| Saturday | 7:00 am - 5:00 pm |
| Sunday | Closed |